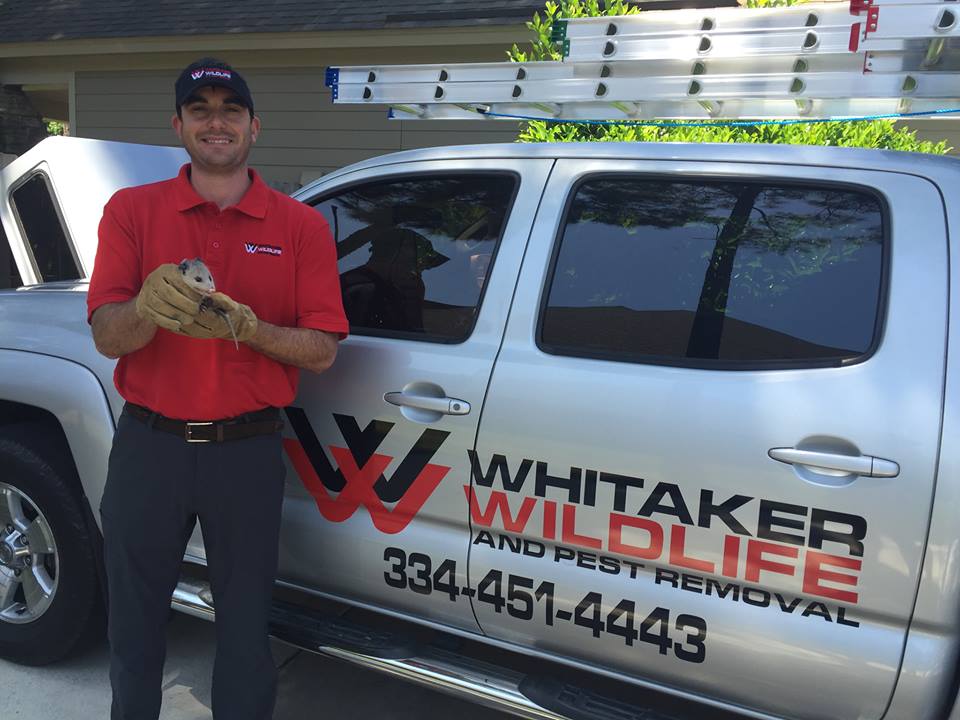 Thank you for choosing Whitaker Wildlife and Pest Removal in Montgomer, AL. We provide professional pest removal services to both residential and commercial clients in the River Region area including Montgomery, Pike Road, Prattville, Millbrook and Wetumpka, Alabama areas.
SQUIRREL IN YOUR ATTIC?
Squirrels can be heard during the day making noises like chewing and scratching. They live in trees but make their homes in places like attics, soffits, gable vents and A/C units because of safety from predators. READ MORE…
OPOSSUM IS UNDER THE PORCH?
Opossums are generally quiet animals who like to live under front porches, decks and sheds. Popular places that opossums will take up residence include your garage, attic and under the porch. READ MORE…
RACCOON LIVING IN A CRAWL SPACE?
Raccoons are active through day and can be heard scratching and walking around at night. They tend to get very loud and like to live in warm places like attics, chimneys, sheds, under decks and concrete porches. READ MORE…
WIRE CHEWING RATS AND MICE?
Mice and Rats are a very common pest infestation in homes and can be heard scratching and rustling around at night. They can cause extensive damage by chewing through wiring, timber, pipes brickwork, and drywall. READ MORE…
BATS SCREECHING AT NIGHT?
Bats are nocturnal and only make noise at night. They can be heard screeching and fluttering around when in search of food. Bats live in trees, caves, barns, tunnels and bridges but they tend to get into attics because there is very little disturbance while they rest during the day. READ MORE…
OTHER ANIMAL AND INSECTS WE CAN HELP REMOVE
ARMADILLOS • BEAVERS • ANTS • CARPENTER BEES • WASPS • FLEAS • ROACHES • SPIDERS