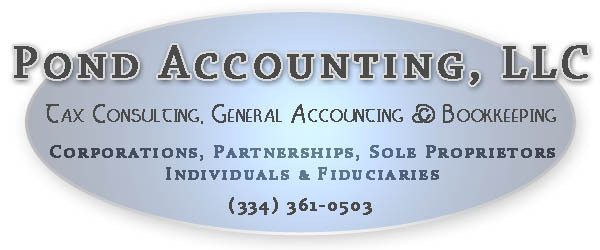 Pond Accounting, LLC
1843 Glynwood Drive, Prattville, Alabama 36066
Pond Accounting, LLC in Prattville, AL specializes in Tax Consulting, General Accounting & Bookkeeping for Corporations, Partnerships, Sole Proprietors, Individuals and Fiduciaries. For more information about our services please give us a call at (334) 361-0503 or (334) 324-4883.
Tax services include individuals, C- & S-corporations, partnerships, estates, trusts, and non-profit organizations. Bookeeping/accounting services include monthly financial statements, quarterly payroll, sales tax services, business formations, business consulting, and startup planning. Payroll services include developing payroll system, payroll processing, payroll tax reporting and filing.
Thank you for choosing Pond Accounting Services! We Look Forward to Working With You!