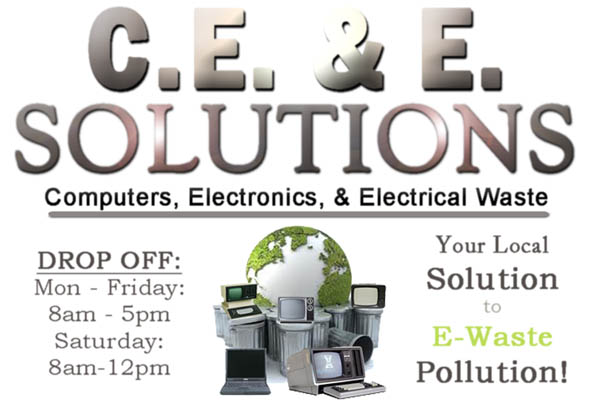 Thank you for choosing C.E. & E. Solutions – Computers, Electronics, & Electrical Waste Recycling Center in Prattville, Alabama. C.E. & E. Solutions opened for business in November of 2011. We are conveniently located on 105 Industrial Park Rd in Prattville, Alabama (just off Hwy. 82 between Hwy. 31 and Hwy. 14).
We are your local solution to all of your electronic waste. We accept computers, electronic & electrical scrap from all of the surrounding areas.
Since we are local – we are available ALL YEAR round, not just one or two days a year like the big out of State Companies!
See below for a list of some of the items that we currently accept at our facility:
AC Adapters w/ or w/o wire
AC Laptop Chargers w/wire
Laptops
Ballasts
Cable Boxes – Analog/Digital
Docking Stations
Drives – Mixed CD & DVD
Fans
Keyboards
Modems/Routers (metal or plastic housings)
CD and DVD
Monitors (NO CRT's)
Televsions (No CRT's)
Fans
Hard Drives
Power Supplies w/ or w/o wire
PC Mix Systems
House & Cell Phones
Printers/Copiers
Main Frame Servers
Mouse
UPS Batteries – Lithium-Ion, Nickel
CD & Nickel -MH
Please call if you don't see your items listed!
Contact us today!
(334) 568-9621